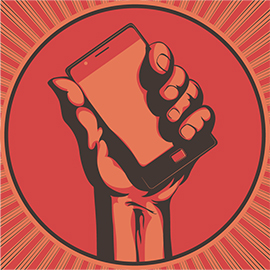 Mobile marketing gets you closer to your customer than any other form of advertising. And more people are searching on smartphones than ever before. In fact, research firm BIA/Kelsey predicts that next year mobile searches will surpass desktop searches. This is not the kind of data local business should take lightly.
Here are some other data points from Think With Google about the role of mobile marketing in driving purchases.
Consumers spend 15 or more hours per week conducting research on smartphones.
During this time, consumers visit six mobile websites.
59% of users visited a business's website.
Saturday and Sunday were the most common search days from an average 7.3 hours of web time.
Thursday & Friday were the most common Mobile App time days from an average of 8 hours per week.
Categories that mobile shoppers looked for the most were health and nutrition, automotive products & advice, and then home and garden related content.
Users with a preference for branded apps primarily researched financial products, electronics and apparel.
Those who used a search engine focused instead on automotive, home and garden, and then apparel searches.
55% of surveyed users said that they used their mobile devices to do research on purchases that they were planning on making within the hour. This gives prepared retailers an amazing advantage when it comes to enticing shoppers away from a competitor.
As you can see, mobile matters. And not just for large international, consumer oriented brands. Local chains as well as Mom and Pop stores need to understand the centrality of mobile in consumer purchasing decisions. Those that don't are missing out on the next generation of marketing.